# Editing your show
# Show list
From your account's main show list you can create new shows, import existing shows, edit, delete, duplicate and share your created shows.
Screenshot: Show list screen
# Creating a new show
To create a new show, click the "Create new show +" button at the top of your show list page.
# Importing media
After you create a new show, you will be redirected to the media import page.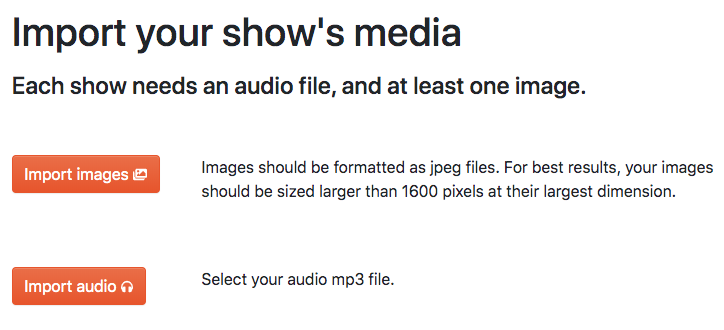 Click "Import images" to select your image files.
Click "Import audio" to select your audio file (or use one of the tracks from our Music Library)
After selecting your images and audio file, click Begin Upload.
After your assets finish uploading, you will be redirected to the editing interface.
Proceed to the editing documentation.
# Preparing your image and audio files
Images should be formatted as jpeg or png files. For best results, your images should be sized larger than 1600 pixels at their largest dimension. Soundslides will export video up to 1080p (1920x1080), which is its current maximum output.
Shows can contain up to 360 images per show, however less than 120 is ideal to ensure quick loading on a variety of platforms.
Audio can be in any of the following formats: .mp3, .m4a, .wav, .aiff, .ogg, .aac.
# Soundslides Music Library
Soundslides includes a library of more than 100 music tracks across multiple genres, selected for their suitability with audio slide shows. Every track is pre-cleared and licensed for video distribution on YouTube, Vimeo and social media platforms.
Do I need to obtain permission to use any of these music tracks?
No. All of the tracks in the Soundslides Music Library are either copyright free, or have been pre-licensed by Soundslides for use in your creations. No attribution is required on any of the provided tracks.
# Duplicating a show
To duplicate your show, click the "Duplicate" button from your show list.
# Deleting a show
To duplicate your show, click the "Delete" button from your show list. You will be prompted to confirm deletion of your show. You show can not be undeleted after being deleted.
If your show has been published, the show will be unpublished prior to deletion.