Migrating from Soundslides 1.x
Importing a Soundslides 1 show
In addition to creating new shows from scratch, you can also upload slide shows created with Soundslides 1. For this, you will need a zipped copy of your project's publish_to_web directory.
If your project has a publish_to_web directory, you can zip it manually and import it into Soundslides 3.
After you have your zip file:
From account's show list, create a new show by clicking the "Create new show +" button at the top of your show list page.
Click the "Import existing show" button.
Click "Browser", and select your publish_to_web.zip file from your computer.
Click "Begin upload"
After your upload is processed, you will see your show in your account's show list.
If you do not have a publish_to_web directory, but you still have a working copy of Soundslides or Soundslides Plus on your computer, open your project in Soundslides 1, then select Export and Zip from the File menu. Then follow the steps above.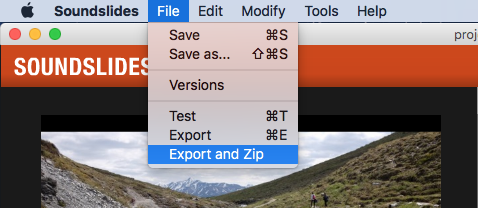 Bulk conversion of shows
If you have a large number of legacy Soundslides shows to import and convert, please reach out to us. We have converted thousands of legacy archival Soundslides projects over to modern non-Flash formats, and we'd love to help. We don't want old slide shows to disappear just because Adobe walked away from Flash.
Legacy software
Legacy desktop installers
Out-of-date software
This section refers to the deprecated desktop-based Soundslides 1 software. These software packages were produced by Soundslides Corp., which is no longer in business. This software may not run on current OS X or Windows systems. Exported shows from these applications are no longer viewable on most modern browsers. Exported shows will require conversion to another format. We maintain a mirror of these installers for archival purposes only.
The application remains available to download for users maintaining legacy operating systems.
Soundslides Plus 1.9.5: Mac | Windows
Soundslides 1.9.5: Mac | Windows
Legacy license keys
The company that sold and licensed Soundslides and Soundslides Plus closed in 2018. The following keys are provided for archival purposes and are valid for the last released version (1.9.5) of Soundslides and Soundslides Plus.
Soundslides Plus
Email: support@soundslides.com
Key: 9779XSQSWIS-647-LYC-23P

Soundslides
Email: support@soundslides.com
Key: 2639FSTSNES-647-NUG-23